As you can see, I chose not to fill the interstices with lampblack for two reasons, first, I don't have access to any drawings on the construction of the special machine used by the Lumieres in their autochrome process, and second, it seems to work fine without it.


The next step is to prepare the glass by using a machine of my design to cover the plate evenly with a custom made adhesive as shown in the illustration below.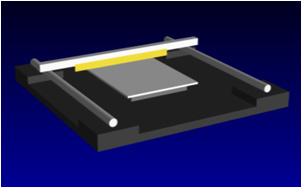 By passing the knife blade (yellow) over the adhesive spreads it evenly, then the wet plate is attached to a centrifuge and spun at 1000rpm to smooth it out, its then left to dry for several days until the adhesive sets up. Finally the mixed grain is dusted on, and it receives a coating of epoxy sealer. The plate is now ready for use.


The plate is inserted into a glass carrier grain side up and the color negative is placed in this modified carrier in the usual way. The print is made by projection through the screen resulting in the appearance of natural grain, only more so.




I'm always interested in discussion, scientific or otherwise. You can Email me at jscruggs@bway.net



( additive )

( autochrome )

( color )

( film )

( screens )

( subtractive )