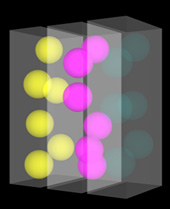 The three dyes formed, one in each emulsion layer, are the subtractive primaries yellow, magenta and cyan. All silver is then bleached out and each layer is left with a positive color image.


Thus reds in the subject produce a heavy silver deposit in the red-sensitive layer in the negative, but no trace on the other layers.


Then after reversal, only yellow and magenta remain which together make red. As shown in the illustration, the cyan is all but gone.