Fool's Paradise
An Opera Buffa for Children in One Act
(Yiddish and English librettos)
by Ofer Ben-Amots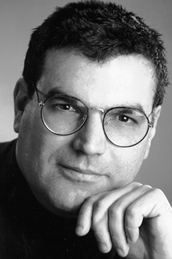 About Fool's Paradise
by Ofer Ben-Amots
Ofer Ben-Amots' chamber opera Fool's Paradise is inspired by distinguished Yiddish writer and Nobel Prize laureate, Isaac Bashevis Singer's story of the same name. While it is a simple tale, it encompasses the full scope of life's experiences. Childhood, adolescence, love, death, burial, resurrection, and wedding all serve to make this a dramatic story which is bigger than life. Thus, upon reading the story, I immediately envisioned it in the form of an opera.
The opera is intended for children. In approaching such a project one must question whether composing especially for children is any different from composing for adults. Children do not ask for much, they have a great deal of intuition and a wealth of imagination. In fact, in many ways all they ask of the adult author or composer is to speak to them in clear simple language and allow for some mystery and magic. Ignite their imaginations and they can do the rest on their own!
There are seven characters in the opera. Each one of them is attached to an instrument or a specific group of instruments. The diversity of instrumentation and unique orchestration made the use of symphonic orchestra unnecessary. There is, in fact, no doubling of instruments except for the clarinets. The importance of each part is dramatically increased as the soloists display the full palette of their instruments' abilities. This use of only one instrument of a kind results in a large chamber ensemble with a new quality of sound and acoustic balance.
Finally, there is the beautiful message of Fool's Paradise. In it's absurd way, a simple but important moral lesson in conveyed. Life is better than death and wonderful Paradise is nowhere else but here - on earth. This is a lesson relevant to everyone, children and grown-ups alike.


Synopsis
Scene 1 (Prologue) - The first scene is a prologue showing Atzel (the protagonist) as a child at bedtime. He begs his Nanny to tell him the story he has heard a thousand times before - the story of Paradise. The Nanny tells of a place where nobody works and everyone eats delicious food reserved only for the righteous. Lulled into slumber by her sweet description, Atzel barely heeds her warning that only the dead can get there.
Scene 2 - Atzel, now a young man of eighteen, works alongside his father, Kadish. He is about to wed the sweet and beautiful Aksah. While Atzel should be feeling joy and enthusiasm, however, he is simply bored with his routine and resentful of the hard work expected of him. He recalls his childhood and begins to dream of Paradise. It occurs to him that Paradise is, in fact, the answer to his problems. Imagining that he is dead, he announces to Aksah and his family that a funeral should be planned, for he is on his way to Paradise. The scene concludes with Kadish's lament for his son.
Scene 3 - Atzel's desperate parents consult with the renowned Doctor Yoetz. The doctor promises to cure their son in eight days, declaring that the only way to treat the young man is to grant him his wish and to bury him. Bewildered but hopeful the parents follow the specialist's advice. A funeral is conducted.
Scene 4 - A fabricated Paradise is created in Atzel's room. Atzel is at first delighted by the visits of the Angels bearing cakes and fruits. But he grows restless and wishes to get out of bed and do things. He is reminded by the Angels that in Paradise you do nothing but relax and enjoy yourself. The daily routine of life in Paradise becomes too suffocating. Atzel is, once again, bored and resentful. He wants out of Paradise and wishes he were alive. Once he has made this declaration, the angels announce that a mistake had been made, he was not meant to die and he must leave Paradise.
Scene 5 (Epilogue) - Atzel is welcomed back to life, back to Aksah, and back to his family. He has discovered how good it is to be alive. A joyful celebration takes place when Atzel and Aksah get married.




Biographical Notes
Ofer Ben-Amots is the winner of the 1994 Vienna International Competition for Composers for his chamber opera Fool's Paradise which was premiered in November 1994 in Vienna during the festival Wien Modern and subsequently became part of the 1994/95 season of the Zurich Opera. His works have repeatedly been recognized for their emotinal and highly personal expression. The interweaving of folk elements with contemporary textures, along with his unique imaginative orchestration, creates the haunting dynamic tension that permeates and defines Mr. Ben-Amots' musical language.
Born in Haifa, Israel, Mr. Ben-Amots gave his first piano concert at age nine and at age sixteen was awarded First Prize in the Chet Piano Competition. Later, following composition studies with Josef Dorfman at Tel Aviv University, he was invited to study at the Conservatoire de Musique in Geneva. There he studied with Pierre Wismer and privately with Alberto Ginastera. Mr. Ben-Amots is an alumnus of the Nordrhein-Westfalen Hochschule fu¨r Musik in Detmold, Germany, where he studied with Martin Christoph Redel and Dietrich Manicke. He graduated with degrees in composition, music theory, and piano. Upon his arrival in the United States in 1987, he studied with George Crumb and Richard Wernick at the University of Pennsylvania, where he received his Ph.D. in music composition. Currently he is Assistant Professor for composition and music theory at Colorado College.
Mr. Ben-Amots' compositions are performed regularly in concert halls and festivals throughout Europe, Israel, Canada, the United States and Japan. In addition to the Vienna International Competition for Composers, he is recipient of the 1988 Kavanagh Prize for his composition Fanfare for Orchestra and the Gold Award at South Africa's1993 Roodepoort International Competition for Choral Compositions. His Avis Urbanus for amplified flute was awarded First Prize at the 1991 Kobe International Competition for Flute Composition in Japan.




Recent Critical Acclaim

Neu Kronen Zeitung-Vienna

"Ofer Ben-Amots' Fool's Paradise, winner of the Vienna composition contest, is an enjoyable piece, musically demanding and colorful, the way children love music. Very skillfully, Ben-Amots traversed the many ways of contemporary music. Lightheartedly the fiddle and the accordion bring old forgotten Jewish folk tunes back to life...."

Der Standard-Vienna

"Ofer Ben-Amots...has composed a one-and-a-half-hour long opera from the material of the Nobel Laureate, which is fascinating for both children and adults to see. Surely it was not by accident that this opera, which was world-premiered Saturday at the Odeon in Vienna, received the winning prize for the contest of composition - Vienna Modern. Ofer Ben-Amots understands well how to give the different protagonists specific instrumental combinations which suit their characters in the play. He often tells the story by using old Jewish folk tunes, but at the same time confronts the young audience with sounds of the most contemporary sort."

Questions about "Fool's Paradise? Contact Rick Hartung hartung@bway.net